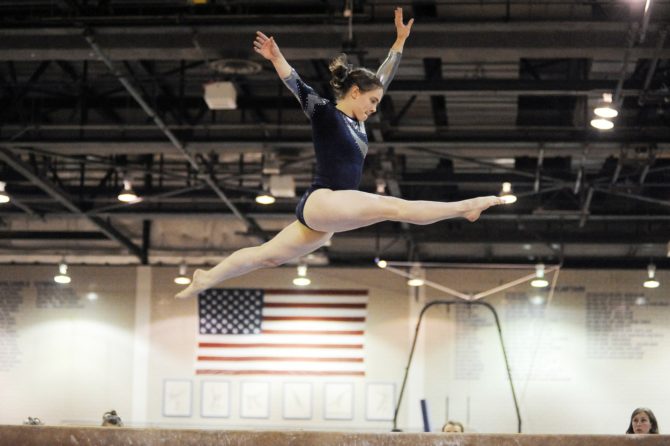 The flips, the turns, the spangled leotards…. That's right, we're talking gymnastics! From your tot's first lesson to Olympic gold, male and female gymnasts are incredible athletes and constantly amaze us with their tricks. But gymnastics is also a sport heavy with foot and ankle injuries. Let's take a look at some of the more common injuries these athletes face.
Achilles Tendonitis
The repeated strain of gymnastics can mean very bad things for your Achilles tendon. This tendon stretches from the calf muscle to the heel, and although it is the strongest tendon in the body, it is still prone to overuse injuries. The constant motion of running on pointed toes, jumping and tumbling during floor routines, and trying to stick that landing on the four-inch-wide beam all put this tendon under tremendous stress. 
Tendonitis, an inflammation of the tendon and related bursae sacs, can lead to stiffness in the calf and a limited range of motion. Tendons may also suffer small or large tears, which can occur gradually or suddenly. In a worst-case scenario, the Achilles tendon may rupture completely, usually with a loud "pop" sound. Unfortunately, a ruptured Achilles tendon means surgery and long-term recovery.
Stress Fractures
While tendons and muscles bend and stretch, your bones are rigid. When athletes—particularly younger kids with growing bones—put continual stress on their bones, stress fractures can occur. A stress fracture is a small crack in the bone brought on by repeated direct stress to a particular spot. 
The impact that a front handspring has on your body is incredible. Now multiply that by 50 front handsprings a day for months on end and you've got a serious risk to your feet. It's a good idea to mix up your workouts or practices to give parts of your body rest. If your feet need a break, try a few days of practicing just the uneven bars. 
Proper nutrition is also a big contributor to stress fractures. If athletes are not consuming proper amounts of vitamin D and other essential nutrients, their bones may become more brittle and subject to fracture. Don't try and just "play through the pain" with a stress fracture. If it grows, you could be looking at a full bone break which will mean goodbye to your gold medal.
Youth Injuries
Gymnastics is a sport that many children begin at a very young age. Unfortunately, when you add stress and pressure to already changing bones and muscles, you can come up with some strange injuries. 
One common injury seen in very young gymnasts is called Sever's Disease. The heel bone grows faster than most bones in the body and reaches adult size before the surrounding muscles and ligaments do. When young athletes experience pain, swelling, and tenderness of the heel bone, it's a sign that they are overusing this area. Luckily, Sever's Disease goes away quickly with rest, stretching, and growth.
The beauty and grace of these athletes combined with the jaw-dropping flips and tricks have made gymnastics one of the world's favorite sports, but for the athletes who perform, a myriad of foot and ankle issues and injuries can pop up. If you're a gymnast, pay attention to what your feet are telling you and get any pain or injury checked out immediately. Your podiatrist can keep you flying high and going for the gold. Call the FAAWC today to discuss your foot and ankle health.
Leave a reply