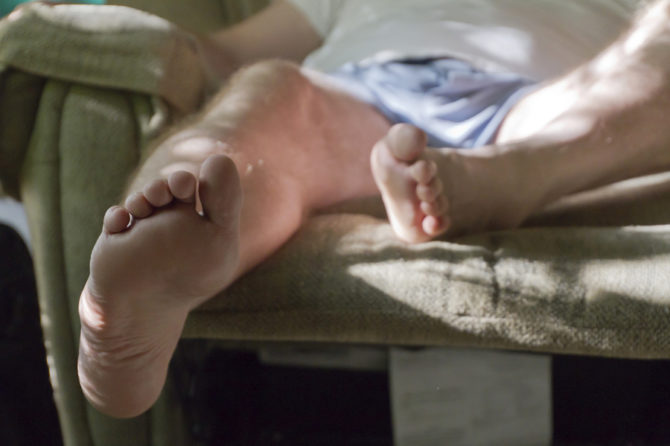 For many people, swollen feet and ankles after a long day at work are nothing new, but for someone suffering from Venous Insufficiency, swelling can be painful and dangerous. Venous Insufficiency refers to a valve malfunction in the veins of the legs that inhibits upward movement of blood. If left untreated, it can lead to varicose veins and leg ulcers.
Treatment is aimed at relieving symptoms and revitalizing the circulatory system. For most people this will involve losing weight, quitting smoking, eating a healthy diet, and exercising regularly. All of these actions help to strengthen your heart and keep your blood flowing properly. Avoid sitting or standing for too long so that blood does not pool in the legs. If you are sitting, elevate your calves, ankles, and feet above the level of your thighs; when lying down, keep them above the level of your heart.
There are no medications to treat venous insufficiency, but antibiotics may be needed to treat skin infections. Practicing good skin hygiene can help avoid additional complications. Compression stockings are considered the most effective treatment for relieving swelling and pain. Store bought compression socks may help many people, but those living with venous insufficiency require socks with higher compression strengths and graduated designs that start tightest at the ankle and lessen power as they go up the leg.
Do not use elastic bandages or wraps as these may block circulation rather than assisting it. Avoid stockings or socks that bunch up and cut off blood flow and be sure to wash and dry them after each use to keep skin healthy and infection free. Treating the secondary factors of this disease is key to continued health.
If you have significant swelling in the feet and ankles, a feeling of heaviness in your legs, or see increasing numbers of varicose veins call the FAAWC today. Early diagnosis and treatment can help keep you healthy and active.
Leave a reply