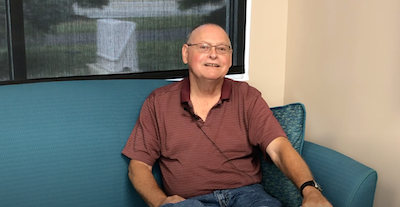 What problem were you looking to solve?
Before I had my treatment it hurt to walk. My right foot was sore. No matter how I walked it hurt. And I was needing help.
What made you choose FAAWC?
My wife came here and I also had a friend that came here. They both recommended you highly. I also met other people who recommended you highly.
What did you like most about FAAWC?
They diagnosed the problem right away. I started treatment and within three periods I am walking normal again.
How has your life changed since your treatment?
Like I said before, I had pain in my foot and it just hurt everywhere I walked. So I just didn't walk very much. I came in here and they gave me the first treatment and it started getting better. After the third treatment I am walking now, no problem at all. And enjoying life.
What is an example of how we went the extra mile?
Both the doctors and the nurses were so helpful in getting me in and finding what the problem was and getting the cure. I just can't thank this office enough.
Would you recommend FAAWC?
Most definitely. I'm just the 3rd one now, and I'm very happy. I met the other two and they were happy. This is the only place I'll come for any kind of foot problem.
*Note: Patient results vary. All video testimonials were voluntarily submitted by actual patients with permission to publish on the FAAWC channels. Testimonials or statements made by any person(s) within this site are not intended to guarantee outcomes.
We invite you to call us at 740-363-4373 to schedule your personal consultation or request an appointment online.
Leave a reply