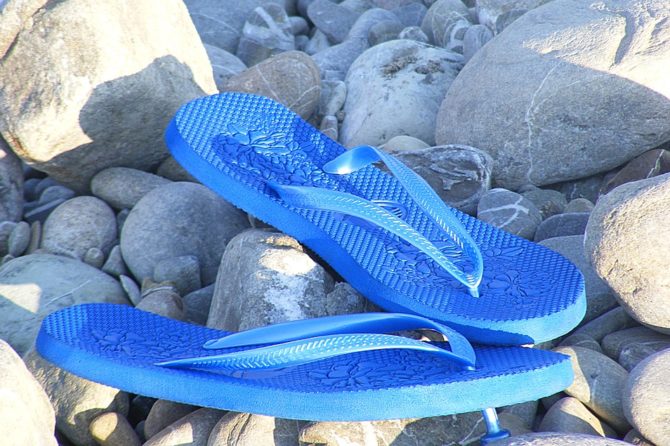 Sandals and summer go together like peanut butter and jelly, but too many sandals don't offer the correct support or protection and can leave your feet aching or lead to other issues. Don't fret, there are still plenty of options out there that will make your podiatrist happy and look fashionable.
The key features to look for in a summer sandal are:
Arch Support – Perhaps the biggest complain podiatrists have about sandals is the lack of support. When your foot is not properly supported, it can lead or contribute to plantar fasciitis, fallen arches, and even ankle, knee, hip, and back pain. Sandals might be appropriate at times, but you should never plan on walking in them for long distances or periods of time as this can exacerbate issues.
Toe Protection – Personally, I love showing off my toes in the summer (especially after my latest PediCare Salon visit!), but leaving your tootsies exposed can result in pain or injury. Stubbed or stepped on toes are common and can result in fractures and unsightly bruising. There is also a potential for cuts and abrasions or even sunburn. Choosing sandals with enclosed toes can eliminate some of these flip flop risks.
Materials – Choosing the right sandal all depends on the occasion, but you should always match the material of the sandal to your activity. If you're going to be wearing your sandals around water, don't choose leather, suede, canvass, or other materials that absorb water or are damaged by it. Make sure any straps are comfortable and wont rub to form blisters. Pay attention to the sole thickness as well; the shoe should not fold in half if you attempt to bend it.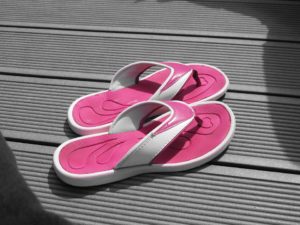 Sandals fit properly only if your entire foot is resting on the footbed. If your heel hangs off the back or your smallest toe is falling off the side, you need a bigger size or a completely different sandal. Look for brands that boast the APMA seal of approval. This seal is granted only to products that have shown consistent benefits for foot and ankle health. To find brands with this approval click HERE, scroll down to shoes, flip flops/sandals and click. There are over 400 individual sandals to explore!
If you're looking for the perfect summer sandals, the FAAWC offers Revere sandals for both men and women. The footbed is removable to fit your orthotics, meaning you'll be looking good and keeping your feet (and your podiatrist) happy and supported. Call or drop by today to browse our selection of perfect summer sandals.
Leave a reply