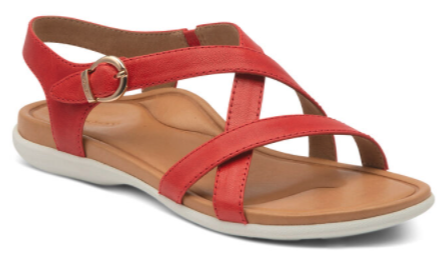 Sun. Fun. Visiting the podiatrist because you wore flimsy sandals all day. Yep—it's summer! When it comes to buying summer sandals, there are a lot of choices. From flip flops to heels, sandals come in all shapes and styles, but not all of them are equally good for you. You'll want to find some podiatrist-approved sandals for 2021 so you can avoid summer foot injuries. Check out these sandals that have earned the FAAWC seal of approval.
What Does it Mean to Be Podiatrist-Approved?
Before we jump into the list, let's look at what makes a good sandal. A podiatrist-approved sandal often has the following features:
Arch Support—an anatomically contoured sandal that provides arch support will be vastly superior in comfort and care to one without arch support
Cushioned Footbed—thin, flimsy sandals do nothing to lessen the pressure of walking, which means you'll need sandals with some cushion
Wide Toe Box—for close-toed sandals, the toe box needs to be wide enough to accommodate the toes without squeezing them
Extra Depth—sandals without adjustable straps will often need extra depth to allow for high arches and to not rub on the tops of feet
Secure Straps—a thin, thong sandal does not prevent your foot from sliding around, so you'll want to find a sandal with straps to keep your foot secure
Anti-slip—Summer often means being around wet areas like a pool or the beach, which makes anti-slip soles an even more important aspect of a good summer sandal
The FAAWC Seal of Approval
Birkenstock has been around for centuries—literally. The history begins with Johann Adam Birkenstock who was registered as a cobbler in Langen-Bergheim, Germany in 1774. His descendants continued in his profession and began manufacturing flexible footbed insoles as early as 1896. In 1932, podiatrists endorse the "Carl Birkenstock System."
The company has come leaps and bounds in recent years in its production methods, materials, and style. Their footbed features proper arch support, a deep heel cup, and adequate room in the toe area, all of which will help distribute weight evenly and promote improved posture and balance. The footbed is made of a cork/latex blend which is a pliable material that adapts to the characteristics of an individual foot.
Chaco was one of the first brands to carry arch support flip flops approved by the American Podiatric Medical Association (APMA). Their shoes are designed with an outdoor adventure in mind. Chaco sandals provide arch support that helps to control overpronation. Their heel riser design and sculpted heel cup also improve overall stability.
Not only are Chacos good for your feet, but they're also good for the environment, too. They believe that footwear should be sustainable, which means repairable, not disposable. If your Chacos need some love, you can send them in for maintenance. It's a great way to get added value out of your sandal investment.
Olukai shoes and sandals feature anatomical arch support that improves comfort and supports the natural contours of the foot. It's based on the "wet sand" principle. In the way that wet sand shapes around your foot, filling the arch and letting the toes spread, so too should an insole shape around and support your foot.
Their deep, cradle heel cup provides stability and natural shock absorption to minimize side-to-side movement. Their arch support reduces aches and pains and promotes healthier functioning. These are great for those who want premium materials and comfort.
These shoes are based on the science of podiatric medicine. Orthofeet's unique design adapts the flat, two-dimensional midsoles of footwear to the three-dimensional foot. The OrthoCushion system features multiple layers of outsole, midsole, and removable insoles, plus a foam heel pad for absorbing more shock. They offer multiple sandals, from closed-toed beach walkers to dressy, heeled designs.
Vionic (formerly known as Orthaheel) shoes offer an orthotic or arch support built right into the shoe but without the orthopedic look. The company was founded by podiatrist Phillip Vasyli who created one of the first heat-moldable orthotics to help serve his patients and many others. Vionic shoes are designed to support your arches, absorb shock, and provide natural alignment from the ground up. Many of their styles are also APMA approved.
Leave a reply