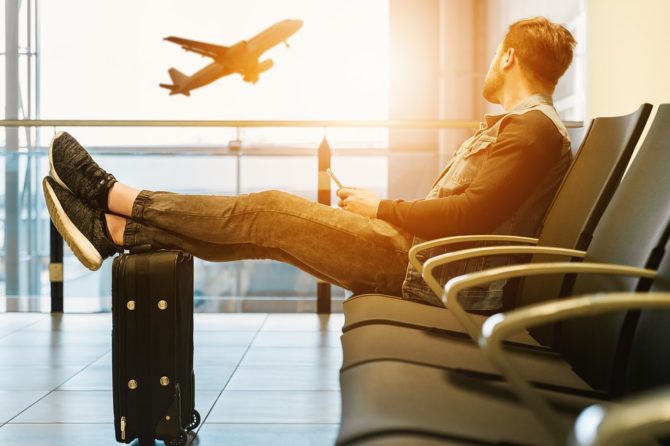 When you travel, it's important to have the right shoes for every part of your journey. From the airport to the beach to a night on the town, travel shoes need to be both functional and fashionable. Proper footwear will ensure your vacation is all smiles, not memories of achy feet.
Whether it's a family road trip or a long flight to a foreign country, the shoes you wear in the car, bus, train, or airplane need to be chosen carefully. Foot and ankle swelling is a common side effect of travel, meaning your shoes should be a half to full size larger than the ones you wear at home. If you are driving, resist the urge to wear flip-flops.
Another reason to avoid flip flops is germs! If you slip off your shoes and stretch your legs under the seat in front of you on the airplane, just imagine how much dirt, food, and other nasty substances that carpet has seen. Make sure you are wearing socks or grab a pair of FitKicks to feel you're wearing nothing at all.
Compression socks are especially important for people who experience foot and ankle swelling. If you suffer from foot odor, use Bromi-Lotion! It's an antiperspirant lotion that helps stop excessive foot sweating and foot odor. Your fellow passengers will thank you for this small gesture.
Once you reach your destination, you still need the right shoes for every activity. If you're a beach-going vacationer, safeguard your feet from shells and hot sand with a light pair of water shoes. If you're a hiking-up-the-mountains vacationer, find sturdy boots that protect your ankles from twisting on the uneven terrain. If you're a lets-go-on-a-historic-walking-tour vacationer, wear shoes with good arch support to keep you going for miles.
We cannot stress enough the importance of wearing proper footwear when you travel. Just because you're on vacation, doesn't mean your health and common sense can get left behind at home. Wear comfortable and supportive shoes. If you don't, your fun could be cut short by foot pain.
Leave a reply