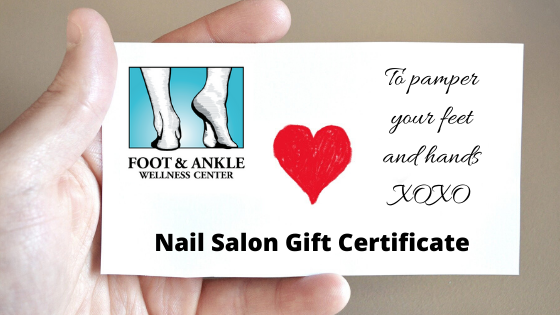 With Valentine's Day just around the corner, there are plenty of people still running around looking for that perfect gift for their loved one. Chocolates? Boring. Flowers? Maybe. A relaxing pedicure or manicure to help them feel their best? Perfect! But don't just head down to the local nail salon to buy a gift certificate. A bad pedicure can lead to cuts, infections, and a trip to your podiatrist—not the present you intended to give. Avoid the risk and take your gift to the next level when you get your loved one a PediCare or ManiCare from the FAAWC Nail Salon. 
Your loved one will enjoy all the aspects of a classic manicure or pedicure and even more. While pedicures and manicures are purely cosmetic procedures, a PediCare or ManiCare includes medical benefits. Our services are provided by medical nail technicians who are specially trained to keep your health in mind while pampering you at the same time. These technicians are state-licensed and complete their training with an internship under the direction of a podiatrist. In other words, they know more about your feet than any average salon pedicurist.
Why is a PediCare so good? Because the services are tailored directly to your medical needs. If you happen to be a patient of the FAAWC, then our nail technicians may already have an idea of your foot health history and know what to look for and how to treat these areas of concern correctly. But you don't have to be a patient to come to the FAAWC nail salon! The expertise of our nail technicians means they can catch a budding corn or ingrown toenail or fingernail without a visit to the foot doctor. These are things a regular pedicurist might miss as they clip and scrub away. 
Hygiene is always of concern when it comes to aesthetic or medical procedures. One of the concerns when getting a pedicure is the sanitary condition of the tubs and the tools. Salons are required to run a sanitation cycle of at least ten minutes between clients for each footbath. On a busy afternoon, this requirement might fall by the wayside, leaving you at risk for any fungi or bacteria. At the FAAWC Nail Salon, you receive a clean medical setting, complete sterilization of our instruments, and strict adherence to aseptic techniques, all to eliminate the risk of a transfer of infection.
Every step of a PediCare is designed to pamper your feet both cosmetically and medically. The initial foot soak helps soften feet. Next, a skillfully used pumice stone removes layers of dead and calloused skin and helps prevent the build-up of dead cells, which can be a cause of bunions and corns. The foot and leg massage, along with an emollient-rich moisturizer, increases blood flow and restores balance back to your skin. Moisturized feet are far less likely to get blisters and cracks—and of course, they look better too. Nail trimming is provided to maintain healthy nails. Finally, an optional color polish can be applied for fun or a clear, antifungal nail polish can add medical protection for your nails.
All in all, a pedicure or manicure is a great thing to keep your feet and hands looking their best, but a PediCare or ManiCare takes you to the next level of health. So the next time you think about heading to the salon, make it the Medical Nail Salon located inside the Foot and Ankle Wellness Center. We are open Monday through Friday for you to call and order your PediCare or ManiCare gift certificate. Don't delay!
Leave a reply