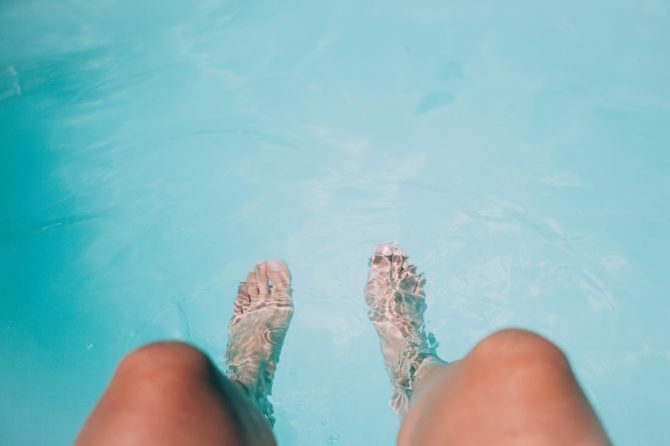 Have you walked through a clothing store lately? Summer swimsuits are already on the racks, reminding us to start working on our bikini body now, while there's still plenty of time. In the same way, you'll want to leave plenty of time for your feet to get ready for summer! Start treatment TODAY for your embarrassing foot and leg conditions. Our FAAWC providers can take care of fungal nails, spider veins, warts, and age spots on your hands, feet, and lower legs using the innovative Aerolase LightPod Neo aesthetic laser. 
Why Start Now?
Laser therapy involves anywhere from 3-8 treatments spaced 2-3 weeks apart. You'll want to allow time for the laser to work its magic. Spider veins will become more prominent for a short time after treatment with overall color fading after the full treatment schedule has been completed. Fungal nails take time to eliminate the fungus and return to normal color. Starting laser treatment in the winter while we're all still wearing pants and closed-toed shoes can keep areas hidden until you're finally ready to show them off on the first warm day of spring.
What Exactly Is Laser Therapy?
Laser Therapy is an effective and FDA-approved way to treat warts, rejuvenate skin, remove hair, cure fungal nails, and even diminish spider veins. Laser treatments of foot and ankle issues are quick, safe, and provide unparalleled results compared to traditional treatment methods. We use the Aerolase LightPod Neo laser because it offers advanced technology and some of the best clinical research supporting its fantastic results. In fungal nails, studies report a 92.7% success rate with this laser treatment—the highest of any fungal nail treatment option.
Who is Laser Therapy For?
Everyone can benefit from Aerolase laser therapy! Treatments are non-invasive, there are no medications to produce negative side effects, and the results are long-lasting. You'll need to discuss any additional considerations with your FAAWC provider.
Aerolase Laser Therapy at the FAAWC
If you're ready to eradicate fungal nails, diminish the look of spider veins and age spots, or banish that wart, then you're ready for Aerolase laser treatments from the FAAWC. Ask your provider today for a laser therapy consultation! You'll be glad to slip on those shorts and sandals so soon as possible. Call 740.363.4373 today!
Leave a reply