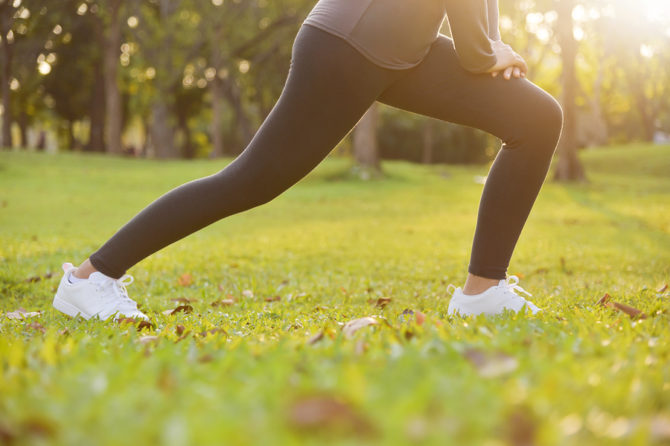 If the world is lacking in anything, it certainly isn't health advice. Everywhere you turn there are articles, talk shows, and videos promoting exercise, healthy eating, meditation and more. You are, in fact, reading a blog right now that aims to give you health advice. It's everywhere!
With so much information, it can be difficult to remember every tip your read or hear. When it comes to your foot health, if you only remember one thing, remember to stretch. Stretching your feet, ankles, and legs before and after workouts can prevent injury and relieve pain. Daily repetition can increase flexibility, relax tendons, and strengthen muscles.
Begin with your lower leg. The medical term for abnormally or uncomfortably tight calf muscles is Equinus. A person with this condition would be unable to bend the top of their foot toward their shin. Such limited mobility will force the body to compensate when walking. Your arches may fall, or you may be tempted to toe-walk to avoid discomfort. These modifications in gait may lead to plantar fasciitis, leg cramping, tendonitis, ankle pain, and more. Heel lifts and wall stretches can loosen tight calves.
Next, your ankles need a little attention. Stretching and exercising your ankles will keep ligaments strong and flexible which helps avoid ankle sprains during activity. Overuse and chronic inflammation of the ankle joint can lead to osteoarthritis. Stretching may relieve joint pain due to arthritis and promote healthy circulation. Try drawing the alphabet in the air with your foot. Point your foot and hold for one minute then flex for one minute. Repeat this three to five times. Flexible ankles are important to maintaining an active lifestyle.
Finally, you'll want to exercise your toes. Bunions, hammertoes, arthritis and more can plague your tootsies if you don't stretch them. With no shoes or socks on, spread your toes as wide as you can, hold for 10 seconds then relax and repeat ten times on each foot. Improve flexibility and dexterity by picking up small objects with your toes. Challenge yourself to move pencils or marbles into a cup. Keeping toes strong can prevent strain and injury.
It's not uncommon to feel soreness when your first start stretching, but if you feel pain, call the FAAWC to make an appointment. If you've had a recent injury to your foot or ankle, check with your podiatrist before starting a stretching regimen.
Leave a reply