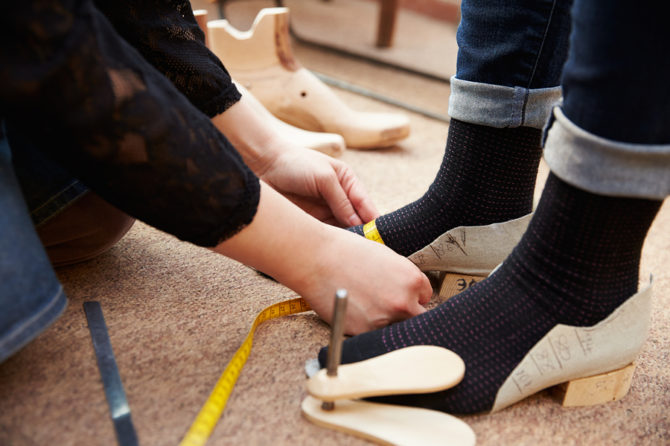 Clogs, flats, athletic shoes, high heels…
There are infinite shoe choices these days. Unfortunately, like many things today, the average shoe is not the quality it used to be. This means that as consumers, we have to pay a little more to get a well-made product. In fact, good foot health is often more about the quality of the shoe than the type of shoe. Seventy percent of falls in the elderly involve athletic shoes, loafers, and oxfords—all which you might assume are better for stability. But there's more that goes into it than that. Wearing the right size, quality, and type of shoe plays a big role in the prevention of falls.
Every 11 seconds, a person over 65 is treated in the emergency room for a fall. Falls are also the leading cause of fatal injury in the elderly. Fear of falling can limit exercise and social activity in aging persons. While not all falls are attributable to the shoes we wear, it's one factor that we can easily control. And this blog is helpful for more than the elderly. Low-quality shoes worn by a person of any age can lead to a fall which results in broken bones, sprains and strains, and more. Here are some tips for picking the right shoe of the right quality in the right size:
The Fit: A staggering 80% of men wear the wrong size shoe, but this comes as no surprise to many. The days when a well-trained shoe salesperson would actually come to help you are just memories of the past. The best way to assure a properly fitting shoe is to have your feet measured with a Brannock device! Your shoes should be snug, but not too tight. It's also important to trade out shoes that are worn. We can professionally measure your feet at the FAAWC.
Sturdy as She Goes: A good shoe should have a sturdy heel, meaning it should not collapse when you squeeze the sides. The shoe should also not collapse when you twist it long-ways. The toe box can bend up slightly, but should not be overly flexible. The sturdiness of shoes is probably the biggest change in quality over the years.
More Cushion is Not Always Better: Some shoes can make you feel as if you're walking on clouds—which is not always a good thing. In the elderly, shoes with a lot of cushion lead to more instability. A thick, rubber sole can be good on hard surfaces but is worse on carpeted areas. A shoe with too little cushion, however, can lead to strain and fractures.
The message here is that your shoes need to fit well. In addition, the style and quality of a shoe play a large role in fall prevention. Make a quality investment in the shoe you wear. Call today to consult with your FAAWC physician or schedule a time to get your feet measured! 
Leave a reply