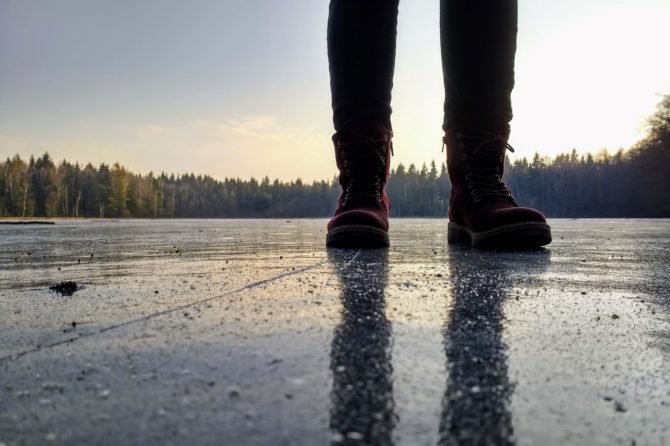 Winter can be a treacherous time. Some hospitals report an almost 500% increase in emergency room visits during the winter. Many of these visits are the result of a slip and fall, which can culminate in some major foot and ankle injuries. 
Oddly enough, scientists still can't figure out exactly what makes ice slippery. We just know that it results in a serious lack of traction between your foot and the ground. We all know the feeling of taking our first unsteady step outside when it's icy. If you experience a slip and fall this winter, where will you go for your foot and ankle care?
How to Walk in Snow
But first, some tips! When walking in the snow, follow the leader. Compacted snow has better traction than fresh snow. Keep your center of gravity always over the front leg to reduce your chances of slipping. Don't carry heavy loads and keep your hands out of your pockets. Like a penguin, keep your arms out slightly and use them for balance. Proper footwear is also a chief factor in helping keep us safe in the winter. Pick boots with a deep rubber tread. Traditional athletic shoes and high heels are definitely not for walking on snow, ice, or slush. 
How to Fall Safely
If you do take a fall, do so safely. Try to avoid falling onto your knees or hips, reaching out your hands, or hitting the ground with your spine or head. Falling on the fleshy parts of the body (such as your butt) and relaxing as you fall can help reduce injury. Thick clothing and coats will help cushion you in the event of a fall.
Emergency Foot Care for a Slip & Fall Injury
If something unexpected happens and you take a fall this winter, the FAAWC is here to help. Many falls result in injuries that need to be seen urgently but may not warrant an expensive trip to the hospital emergency room or an emergency care clinic. Instead, take advantage of the Urgent Access available from the FAAWC.
We keep several appointment slots open each weekday for patients experiencing painful or sudden foot and ankle conditions or injuries. With five providers of medical care, you can rest assured you will receive the care you need as quickly as possible. We have everything you need on-site to treat your emergency including state-of-the-art digital X-rays, lab blood draws, below-the-knee cast application, and a wide variety of in-stock braces, cast boots, and fracture shoes.
Injuries can happen at any time, but we certainly have an increased risk whenever there happens to be snow or ice on the ground. Don't wait to get treatment for your winter slip and fall injuries. Come see us and we can help get you back on your feet.
Leave a reply