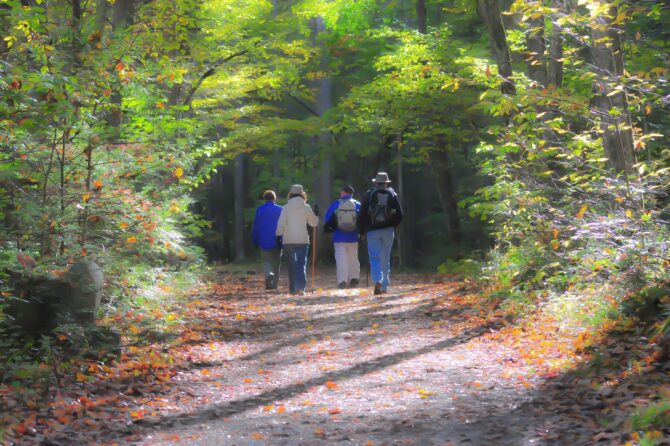 The weather is cooling and the leaves are turning into a myriad of fiery reds and oranges. If you're looking to get out of the house and go walking around Delaware, Ohio, then try out one of these 10 walking trails and hiking destinations around Central Ohio.
Mingo Park — 500 E Lincoln Ave, Delaware, OH 43015
One of our absolute favorites! This location is where our monthly walk-with-a-doc events take place. The paved trail around the park is approximately one mile long. Close to downtown and well-maintained, this park is perfect for a quick commune with nature in an easy setting.
Alum Creek State Park — 5905 Lewis Center Rd, Lewis Center, OH 43035 (Visitor Center)
A popular destination for many reasons, Alum Creek State Park features trails from .5 miles in length up to 4.1 miles. These non-paved paths are open to leisure walking and hiking. Some trails, such as the Equestrian and Hiking trail, allow horseback riding while others are reserved for biking. With so many activities and trails, this is a spot worth walking again and again.
Gallant Woods Park — 2151 Buttermilk Hill Road, Delaware, OH 43015
Get yourself lost in the forest (on a very clearly marked trail, of course) when you visit Gallant Woods Park. The 1.5-mile loop here is perfect for walkers and hikers of any age and ability. You'll pass different habitats such as wetlands, prairies, and heavy woods where you can spot a variety of wildlife.
Delaware State Park & Dam — 75 Downing Rd, Delaware, OH 43015
A little closer to home, the Delaware State Park offers great walking in Delaware, Ohio. The scenery includes trees, meadows, and a beautiful 1300-acre reservoir. The surrounding trails stretch from an extra-short .25 miles to 1.6 miles. It's the perfect spot for a family walk and dogs are welcome (on a leash, of course).
Scioto Township Park & Nature Area — 4363 Marysville Rd, Delaware, OH 43015
This local park, open dawn to dusk year-round, has about one mile of well-paved walking paths. Take a break from your exercise to play on the playground or bring sporting equipment to take advantage of the baseball and soccer fields. They even have a catch-and-release pond. This is a park good for the whole family.
Emily Traphagen Park — 5094 Seldom Seen Rd, Powell, OH 43065
This wild area lays hidden among the suburbia just South of Delaware. From white-tailed deer to waterfowl, you'll be sure to get up close and personal with all that Ohio's nature has to offer. Along with the easy hiking trails, you'll have time to enjoy the natural playground or picnic shelter.
Sandel Legacy Trail — 168 S. Vernon St., Sunbury, Ohio 43074
Step into history when you go walking on the Sandel Legacy Trail, part of the larger Ohio to Erie Trail. This little portion is slightly over half a mile long and runs along an old railroad track. Although the path does not directly connect to the Ohio to Erie Trail, the associated Trailhouse (open one weekend each month) is still a fun piece of history to explore with the family after a leisurely stroll.
Any of these trails will provide excellent autumn walking or hiking, whether you're a slow ambler or a serious power walker. Don't forget to wear the right socks and shoes to protect your feet. And call FAAWC for all your Central Ohio foot care needs!
Leave a reply