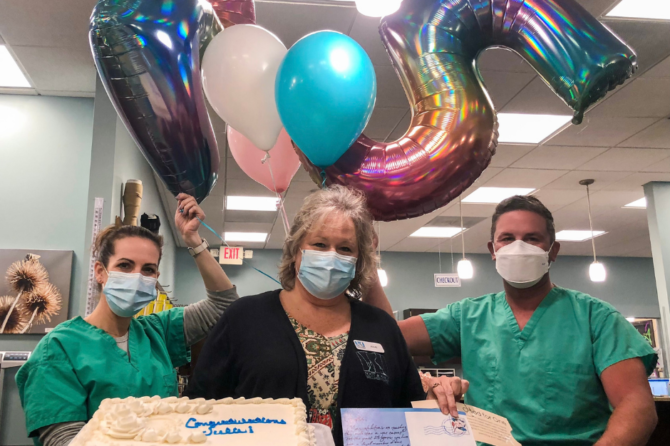 A familiar face to all, a stranger to none. If you have been a patient at Foot & Ankle Wellness Center in the last 25 years, you know Julie Wilgus. Her warm smile and kind demeanor make an impression on everyone who walks through our doors. This February, Julie celebrates 25 years with FAAWC.
In honor of this extraordinary achievement, we asked Julie a series of questions to commemorate her time at FAAWC thus far.
What is your favorite memory from working at FAAWC?
The wonderful patients I get to see every day – some of which, I would take as my grandparents. I have developed a lot of friendships at FAAWC.
How have you seen FAAWC change in the time that you have worked here?
FAAWC has grown from one doctor in a small office to a new building with four doctors, a nurse practitioner, and a physician assistant!
How many providers have you worked with since starting at FAAWC?
Eleven!
What was your favorite conference you have attended?
Oahu, Hawaii with Kim Brown and Sandy Gay! It was beautiful, except when a bird pooped on me while waiting in line for the Luau.
Other notables: Chicago – where I saw my first Broadway play, Phantom of the Opera! Vegas was fun too!
What brought you to FAAWC?
My best friend, Colleen Shaw, worked here. I was going to apply earlier than I did, but the open position was for medical staff. I wasn't sure if I wanted to do that. When a front office position became available, I jumped on it and haven't looked back.
What are the best compliments you've received at work?
Patients get concerned when they come in and don't see me because I am on vacation. They are concerned that I left, but are always relieved to find out that I am only gone for the week!
That it's nice to see a familiar face when someone walks in.
That I have a pleasant voice.
We are excited to celebrate with Julie as she reaches this milestone in her career! We are so grateful to have her on our team for the last 25 years. Her warmth and compassion are palpable, and it's impossible to count the number of lives she has touched. Julie, if you're reading this, we appreciate you!
Leave a reply