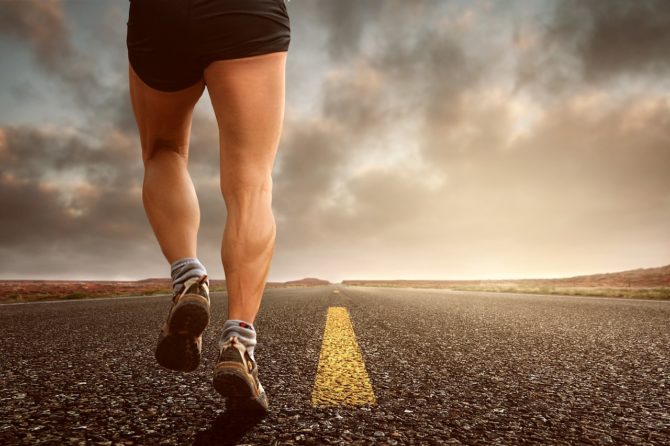 Exercising and maintaining an active lifestyle means always wearing the right shoes. Proper footwear is critical to preventing and treating common foot ailments. With such a variety of exercise shoes out there, how do we know what to choose?
Exercise shoes fall into three basic categories: walking, running, and cross-training. Walkers strike the ground with their heel and roll forward to push off their toes. Shoes designed for this movement will be flexible at the forefoot for optimal toe mobility and have moderate to minimal cushioning. The heel of the shoe is not built up so that the foot remains parallel to the ground.
Depending on their stride, runners may strike the ground with their heel or mid-foot and roll in an S pattern to push off their big toe. With each stride, a runner's feet and ankles must withstand 2 to 4X their bodyweight. For this reason, running shoes have increased cushion in the heel and forefoot. Running shoes also tend to have large mesh panels for breathability.
Cross training shoes are designed for lateral (side to side) movement. Quick turns and sudden direction changes can mean disaster for your ankles if not properly supported. Cross training shoes have little to no bend and should be used primarily for aerobics, weightlifting, kickboxing, and sports like basketball, racquetball, tennis and more.
Using the wrong shoe for any activity can lead to a variety of issues. Lack of cushion on hard surfaces can put you at risk for stress fractures, heel pain, and tendonitis. Lack of arch support can cause put excess strain on the plantar fascia. Wearing the wrong size shoe can squeeze toes together, forming bunions and corns, or backward, creating hammertoes.
No matter what sort of activity you perform, the right shoes are paramount to safety and fun. When trying on exercise shoes, use these handy tips:
Try on shoes later in the day
Try them on with the same socks, inserts, or braces that you will wear when exercising
Get your feet measured every time; they change through the years
Replace shoes every 300-500 miles (1 or 2x yearly)
Don't skimp on price; poor quality shoes will damage feet, necessitating costly treatments
Bring in your current shoes so the sales associate can find similar models
Look for shoe features that match the unique needs of your foot (e.g. wide toe box, lateral ankle support)
Leave a reply